Opposition to Kaleidoscope drugs centre plan to relocate in Llandrindod Wells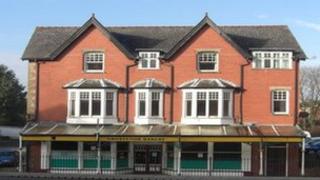 Plans to convert an old bakery into a drug and alcohol help centre in Powys has sparked protests from residents living nearby.
The Kaleidoscope Project wants to relocate from is current base in Llandrindod Wells to an empty bakery in the Ridgebourne area of town.
Some in the area have formed an action group in opposition, claiming the property is unsuitable.
Kaleidoscope said it had received no complaints from its current neighbours.
The drug and alcohol support group's existing office has been in Ithon Road for about seven years and is next door to a children's nursery and some sheltered bungalows.
But Ridgebourne resident Maggie Craig, who is a member of the Ridgebourne Action Group, said people did not want the centre in their part of town.
"Kaleidoscope want to convert the old Grosvenor bakery which has been empty for about two years," she said.
"But the Ridgebourne area is completely unsuitable for this development. More than 90% of the homes are owner-occupied and they are large Victorian buildings.
"Half are owned by people with young families, the rest are owned by retired people or single, elderly people.
"We're concerned that the value of our properties will fall if this centre is built and we won't be able to sell them.
"No one in their right mind is going to buy a family home next to a drug and alcohol centre."
Ms Craig said more than 400 people had also signed a petition in opposition to the proposals.
'Damp basement'
James Varty of Kaleidoscope said: "We are relocating from Ithon Road in Llandrindod.
"There has been a drugs project there for at least seven years, and there are no recorded complaints that have arisen from the service being there.
"We have a nursery next door and old people's sheltered bungalows, 26 of them, within 100 metres.
"There are absolutely no community safety issues. We have had two public meetings so far. We have listened to all concerns and tried to reassure people as much as we can."
Mr Varty said Kaleidoscope's current office was in a "dark, damp basement" and was unsuitable.
A third public meeting about the proposal is planned on 8 February.