Copper temple sculpture stolen for scrap in Knighton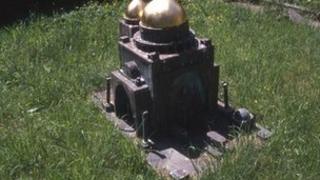 A copper sculpture of a temple worth more than £1,200 has been stolen in Powys for its scrap metal value, police believe.
The sculpture, which features gold leaf detailing on two domes, was taken from an address in West Street, Knighton.
Dyfed-Powys Police said it would have taken two people to move it because of its size and weight.
People with information are asked to contact Pc Bill Cowan at Knighton police station.
Police said the theft happened some time between 13 and 17 January.