Work starts on Aberystwyth's new county and magistrates' court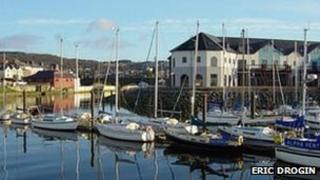 Work on a new £5m county and magistrates' court in Aberystwyth has started.
Her Majesty's Courts and Tribunals Service (HMCTS) bought a building in the town's marina last year for more than £1.3m.
Work to convert it was to have started last October, and Ceredigion MP Mark Williams has written to the Ministry of Justice over the delay.
HMCTS said work started on Monday and would be competed in September.
The new court will be known as the Justice Centre and will bring together magistrates' and county courts, which are currently in two separate buildings in Aberystwyth.
A HMCTS spokesperson said: "HMCTS has purchased a building at Y Lanfa [the marina] for the purpose of establishing a new Justice Centre in Aberystwyth.
"The Justice Centre will deal with magistrates' court work, county court work and tribunal hearings.
"HMCTS carried out all the necessary surveys prior to purchasing the site. However, when the contractors undertook work to locate the utilities, they found that they were not located in accordance with the existing plans.
"The work to relocate these essential services has prevented construction from continuing until now."
The spokesperson said construction work on the complex started on Monday and was expected to be finished by the end of September.
The overall cost of the scheme included the purchase price of of the building, HMCTS added.
There had been plans to build a £10m law court in another part of town at Parc y Llyn, but they were abandoned when the developer went into administration.