Tributes paid to former Wales international Syd Thomas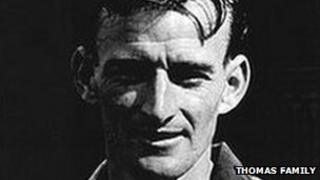 Tributes have been paid to a former Wales international footballer from the 1940s who has died, aged 92.
Syd Thomas, from Machynlleth, Powys, played on the right wing for Fulham and Bristol City, but his career was cut short by World War II and tuberculosis.
He won four caps for Wales and played against England legends Stanley Matthews, Tommy Lawton and Tom Finney.
Born in Machynlleth in 1919, Thomas was spotted as a talented outside right playing for the town in 1938.
A fruit wholesaler from London, who had married a Machynlleth woman, was watching that day and had contacts with Fulham FC.
Within a few weeks the club's manager Jack Peart came to the Powys town to watch Thomas play.
Machynlleth historian David Wyn Davies, who wrote a book about Thomas, said: "He [Thomas] was a very, very nice man.
"It was quite hard to get details about his footballing life out of him because he was such a modest person.
"He played against, in my opinion, England's best ever forward line of Stanley Matthews, Tommy Lawton, Stan Mortensen, Wilf Mannion and Tom Finney."
Mr Wyn Davies said Thomas signed for Fulham in 1939, but joined the RAF following the outbreak of war.
"He went back to Fulham after the war and played in their second division winning side of 1948," Mr Wyn Davies said.
"He played in the old first division, which is now the Premier League, and moved to Bristol City in 1950 (for £9,000)."
He was so successful there that he won the Bristol sportsman of the year accolade that year, he added.
But a year later Thomas and his wife Ivy contracted TB, and he was forced to retire from the game.
"He moved back to Machynlleth where he worked for the family bakery business until his retirement," said Mr Wyn Davies.
Thomas's international career spanned one year, 1947-48, and four caps.
He was picked to play against England in 1947 in front of 55,000 fans at Ninian Park in Cardiff. Wales lost 3-0.
Among his international colleagues was ex-Cardiff City, Swansea, Aston Villa and Sunderland striker Trevor Ford.
"Ford was a famous player. Syd once jokingly asked Ford how he wanted the ball centred and Ford replied that he wanted it with the laces facing the goal," said Mr Wyn Davies.
Thomas died earlier this month and his funeral was on Thursday.