Newtown Cricket Club pitch damaged by vandals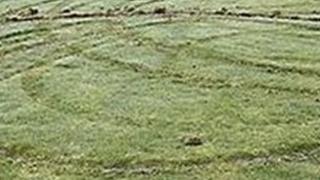 A cricket club chairman says he is "heartbroken" after vandals damaged a pitch by driving their cars over the outfield.
The incident has caused a headache for Newtown Cricket Club ahead of the start of the season in April.
Chairman Peter Davies said the repairs had started, but were on hold at the moment because the ground was wet.
He said the club, which was founded about 150 years ago, was appalled, adding that police were investigating.
Newtown, who will start the season in division one of the Shropshire County Cricket League, play at the town's Recreation Ground.
It is believed that two cars caused the damage to the pitch just over a week ago.
Mr Davies said: "It looks like the culprits were doing handbrake turns on the pitch.
"I was heartbroken when I saw it, and a lot of people in Newtown are disgusted by what has happened. Other teams in the league have also said how awful it is."
Former police officer Mr Davies, whose two sons play for the club, said fresh soil and grass seed was needed to repair the damage.
"We'll be ready for the start of the season," he added.