Powys council vans used in foster carer recruitment drive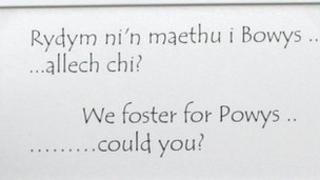 A slogan encouraging people to become foster parents has been painted on the sides of more than 40 council vehicles in Powys.
"We foster for Powys... could you?" has been added to vans and pool cars belonging to the county council.
The local authority said it had seen an increase in the number of children needing care.
The Fostering Network charity said last year about 8,750 new foster families would be required in the UK in 2012.
In a report, Fostering Network said that the number of children in care needing foster homes had risen five years in a row, from 49,700 in 2005 to more than 59,000 in 2011.
Councillor Les Davies, cabinet member for children and partnerships, said: "We are always looking at new ways to try and recruit foster carers in the county and I'm delighted that we are able to use these vehicles to help with our recruitment drive.
"Fostering is demanding but worthwhile and fulfilling and I hope this initiative will recruit more foster carers in Powys."
Councillor Geraint Hopkins, cabinet member for environment and regulation, said council vehicles were ideal to help promote the campaign as they were on the roads daily.
Powys council said foster carers were welcomed from all backgrounds, irrespective of race, religion, sexuality, age or marital status.
It said approved carers were provided with a generous allowance to help cover the costs of looking after a child and in recognition of the skills required to foster.
Training is also provided.