Car parts firm Cobra shuts in Welshpool and relocates to Wrexham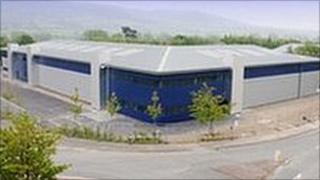 A car components firm is closing its factory in Powys and relocating to a new base in Wrexham after landing a £12m order with General Motors.
Cobra UK's 49 staff in Welshpool have been offered jobs at the Wrexham site, which opened earlier this year.
The company won an order last year to supply interior parts for the new Vauxhall Astra.
Cobra makes components for some of the world's leading motor manufacturers, including Bentley, Audi and Volvo.
The firm has taken over a 70,000 sq ft building on Wrexham Industrial Estate.
It was previously occupied by German company BoS, which switched production to Hungary and Romania four years ago with the loss of 125 jobs.
"All of our Welshpool staff have been offered roles at the new Wrexham site," said Cobra UK's managing director Gary Seale.
"Around 50% of our employees already travel to Welshpool from Wrexham.
"We wanted a bigger premises to meet our expansion needs and unfortunately there is nothing in the Welshpool area that meets our requirements.
"The move to Wrexham keeps us in Wales and puts us closer to General Motors and Bentley, our biggest customers, which will also help us reduce our carbon footprint."
Mr Seale said the workforce should expand to nearly 140 when the company is working at full capacity, and therefore larger premises are needed.
He added: "We have also applied for planning permission to double the size.
"It is disappointing to have to leave Welshpool but we have simply outgrown our current headquarters."
The company's expansion is being backed with money from the Welsh government's repayable business finance scheme.
Earlier this week, car parts manufacturer Shimizu Industry UK, which is also based in Welshpool, warned of job losses, blaming the "continuing difficult trading situation".
Shimizu laid off all its temporary staff and announced plans to make up to 30 full-time workers redundant a year ago.