Powys level crossing crash inquiry focus on phone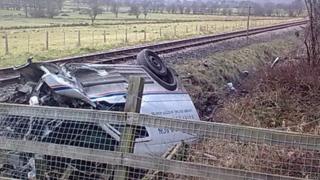 Investigations are continuing into the cause of an accident at a rural level crossing that left a van driver in hospital with spinal injuries.
The 36-year-old man was airlifted to hospital after incident near Carno, Powys, on Thursday.
British Transport Police said the inquiry would look at whether the telephone was used before the crash.
Sim Harris, editor of Railnews, said such crossings were safe provided people followed the rules.
He said: "If something goes wrong in that communications chain, you can get problems."
The van ended up on its roof in a ditch at Pikins Crossing after the collision with the 10:09 Arriva Trains Wales service from Birmingham to Aberystwyth.
No passengers were injured in the incident at 12:35 GMT, although the train driver was said to be shaken.
The van driver suffered chest and back injuries and was treated by paramedics at the scene. His injuries are not thought to be life threatening,
The single track rail line runs through the single-track crossing between the villages of Carno and Llanbrynmair and is surrounded by fields and woodland.
British Transport Police have said the crossing was operated by those wanting to cross telephoning a signalman beforehand.
The train remained upright and on the tracks after the collision, they have said.
Mr Harris said the estimated 8,000 level crossings in the UK would cost around £1m each to eliminate with alternatives such as a bridge.
He described level crossings as a hangover from the 19th Century beginnings of the railway, when trains were slower and much louder and there was far less traffic using them, particularly in rural areas.
But level crossings were largely safe if they they were used and operated correctly, he said.
He said: "They are certainly not all the same. A great deal depends on the characteristics of the railway."
Mr Harris said the rule at that crossing before taking any vehicle across was to call the signaller.