Lampeter builder Peter Gilmore jailed at Swansea Crown Court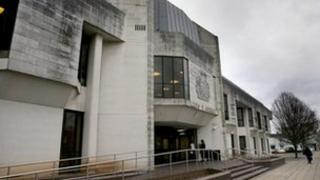 A "wholly incompetent" builder who targeted elderly and vulnerable people in mid and west Wales has been jailed.
Peter Gilmore, 38, of Cribyn, near Lampeter, carried out work that was not worth paying for and charged for repairs he had not done.
He admitted charges including engaging in aggressive commercial practice, fraud, benefits fraud and breaching copyright at Swansea Crown Court.
Judge Keith Thomas sentenced him to 22 months in jail.
Patrick Griffiths, prosecuting, said Gilmore had cold called on properties across the region.
His victims included Brenda Grace Donaldson of Aberporth.
Poor eyesight
Gilmore carried out some work on the house but then told Mrs Donaldson, aged 87, that more repairs worth £1,300 were needed.
Mrs Donaldson, who had limited mobility and poor eyesight, paid but Gilmore did nothing for the money.
Judge Thomas said a surveyor had considered the earlier work to have been so poor "that no-one in their right mind should have paid anything for it."
Gilmore also approached Mrs Donaldson's next door neighbour, 91-year-old Mary Morgan.
Her affairs were being overseen by a serving police officer, Ann Mahoney, who demanded a proper written invoice, which Gilmore could not supply.
He tricked a printing firm in Aberystwyth into preparing a letterhead for Coastal Roofing, and he used a proof to compose an invoice. But he failed to pay and the copyright had remained with the printers.
Replacement roof
Hazel Hughes, of Llangurig, near Llanidloes, had been so frightened of Gilmore she had paid him £80 even though he had failed to repair her porch roof.
Gilmore also defrauded Margaret Hughes, of Llanrhystud, and Norma Elizabeth Dul, of Ammanford, by pretending to have carried out repairs or that work was necessary when it was not.
Mr Griffiths said Gilmore had persuaded Mrs Dul to have her entire house roof replaced at a cost of £5,300.
But a surveyor had reported that no work was necessary - apart from £400 for repairs to damage caused by Gilmore himself.
Mr Griffiths added that Gilmore had failed to inform the Department for Work and Pensions he was a self-employed builder and had received benefits he had not been entitled to.
The court heard an investigation was underway under the Proceeds of Crime Act which could result in Gilmore's assets being seized.
Gilmore's barrister, Janet Gedrych, said not all his clients were unhappy with his workmanship and Gilmore was willing to pay compensation to his victims.
Judge Thomas said Gilmore's whole aim at pretending to be a competent builder was to create opportunities to be dishonest.
He said he noted that Gilmore had been convicted of similar offences in 1997, 1998, 2003 and 2011.