Satellite tracking used to tackle Powys quad bike theft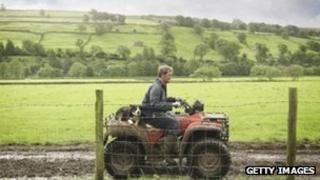 Police have equipped a quad bike with a satellite tracker in a bid to combat thefts of the vehicles.
A similar tracker system with a Dyfed-Powys Police force-owned vehicle has helped cut car thefts in Powys by 25% in three years.
Organised gangs have stolen about 50 of the all-terrain vehicles, worth over £230,000, in Powys since 2009.
Police believe the stolen quad bikes are ending up in countries such as Ireland and in eastern Europe.
Criminals targeting farms in Wales stole equipment worth £1.7m in 2010, a survey found last year.
The quad bike has been a regular feature on farms for a number of years. Farmers, including Wales' many hill farmers, use them to haul feed and check livestock.
Dyfed-Powys Police have managed to recover about seven stolen bikes worth £34,000, but it is hoped the satellite tracker - on a quad bike owned by the force - can help trace more.
Sgt Kelvin Briggs said: "We first applied satellite tracking to a car in 2009 and we saw car theft, and thefts from cars in the county, drop by 25% in three years.
"We're now using it in the fight against quad bike thieves."
Sgt Briggs said police had a rough idea who was responsible for stealing quad bikes.
"Criminal groups are coming into the area and targeting the equipment which in the past has ended up in the Republic of Ireland, but because the economy there is so flat at the moment we think they're now being sent to Poland," he added.
"Our quad bike can be located in crime hotspots and if it's stolen we can track it from a central computer."
Sgt Briggs said the force quad bike would be used in Powys for the moment, but it could be located anywhere in the force area.
Security devices
He said Dyfed-Powys Police were working with other forces, which used similar satellite tracking equipment, and had the opportunity to share equipment.
Sgt Briggs said satellite tracking was still being used in the fight against car crime.
Welcoming the initiative, Farmers' Union of Wales (FUW) director of business development Emyr James said theft of quad bikes was on the increase.
He said farmers used them to make getting around easier and many farmers would be lost without them.
"Thieves seem to believe that because they are acting in rural areas they are more likely to get away with the theft," he said.
"Farmers, too, may believe they are safer in rural areas and this may lead to some failing to ensure their property is secure at all times.
"Crime prevention is sadly needed and tracker devices fitted onto quad bikes are one way of perhaps getting back your bike if it is stolen."
Mr James said farmers should also be aware of the numerous alarms and security devices on the market.