Bodies buried 'wrong way' at Aberystwyth cemetery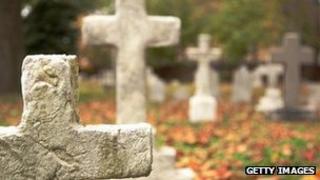 A councillor in Aberystwyth claims bodies are being buried the wrong way at a town cemetery - north to south instead of east to west.
Aled Davies said he had been approached by a few concerned elderly residents, and he is calling on Ceredigion council to rectify the problem.
He said Christian tradition was for people to be buried east to west.
The council, which runs the cemetery, said there was no specific legislation with regard to Mr Davies's inquiry.
There are two cemeteries in Aberystwyth, but Mr Davies, a Plaid Cymru town and county councillor, said residents had concerns about a burial ground called Cefn Llan, which opened in 2006.
"Several elderly residents have approached me," he said.
"People are being buried the wrong way - facing north to south and not east to west as they should be.
"It might seem a bit trivial, but some residents are unhappy and it's a serious matter to them."
Land use
Ceredigion council owns and maintains five cemeteries in the county.
A spokeswoman said: "There is no specific legislation with regard to this.
"Cefn Llan cemetery has been set out in order to maximise the usage of land and to reduce costs when preparing graves on a steep slope which would be passed on as part of the burial costs.
"The majority of the site is of north to south orientation," she added.
"However, there is a section where the orientation is approximately west to east and burial in this section may be requested."
Ceredigion council said some of the consecrated sections of the old cemetery, which is now full, were "not of direct west to east orientation".
It said it did not have any consecrated sections at Cefn Llan, but consecration was carried out for each burial during the internment, if required.