Aberystwyth mayor Richard Boudier to quit at elections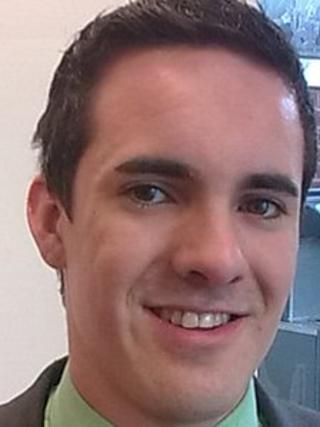 One of Wales' youngest ever mayors is calling time on his political career - at the age of 22.
Richard Boudier, who sits on Aberystwyth Town Council, is finding it difficult to balance his full-time job with his ceremonial duties.
Mr Boudier said the job of mayor was better suited to a retired person or someone with a part-time job.
He also stood as a Labour candidate in Ceredigion at the general and assembly elections in 2010 and 2011.
Mr Boudier, who represents the Penparcau ward, said he would not be seeking re-election in May's council elections.
When he was elected mayor of Aberystwyth last May he was thought to have been Wales' youngest ever.
He became a councillor four years ago when he was a student at Aberystwyth University.
"It's very difficult to commit to the town council and the job of mayor when you have a full-time job," said Mr Boudier, who is originally from Cardiff.
"I work up to 50 hours a week and then another 15 to 20 on top for the town council.
"It's not fair to the people who have elected me and I can't commit fully to their causes as much as I'd like to."
He said he would remain a Labour activist, but would be taking a step back from front line politics.
Mr Boudier works as a service team manager at The Co-operative in Aberystwyth. He is 23 next month.
A snapshot survey of 10 local councils by BBC Wales four years ago found the average age of councillors was 61.
'Basic allowance'
Welsh Local Government Association chief executive Steve Thomas said the average age of councillors in Wales was "not coming down in any accelerated form" and remained well above 55.
He said: "There are some financial incentives, there is a basic allowance of £13,000 [for county and unitary councils], that may appeal to young people but they are hardly the road to riches. It's not even the Welsh average.
"We would like to see more young people coming into politics. Every Welsh council should more represent the community they serve.
"A lot of this is down to the political parties to ensure the candidates do reflect their communities, whether rural or urban."
Town and community councillors are not paid but can claim travel allowances for duties carried out on behalf of their councils.
The Welsh government said it wanted to encourage a more diverse range of candidates to stand and become elected members.
"This includes women, people from black and minority ethnic communities and younger people," said a spokesperson.
"As part of the Local Government (Wales) Measure 2011 there is a duty on local authorities to conduct a survey of the candidates and councillors in their area after each ordinary election.
"The first survey will take place in the forthcoming local government elections in May. We hope that over time this will give us an indication of where there may be barriers to particular groups in standing for election."