Welshpool's £2.5m shops plan withdrawn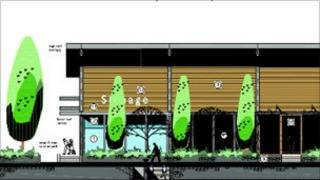 Plans for a shopping development in Powys which could have created 75 jobs have been withdrawn following opposition.
The shops and a cafe, costing about £2.5m, were earmarked for a car park in Welshpool.
It was to be the next phase in a project to redevelop part of the town centre, but town councillors raised parking concerns and the roads.
J Ross Developments has been asked to comment.
The firm is also behind a scheme for a 180-seat restaurant nearby, which will create 50 jobs. This is in the process of being built.
Last year, a Tesco supermarket opened on the town's former livestock market, and a new one-way system near the store was installed.
The three shops were to be the next phase in the project to redevelop part of Welshpool town centre, but it has attracted some opposition.
Welshpool Town Council's clerk, Robert Robinson, said: "Town councillors felt this new development was too much too soon.
"The first proposal the town council saw did not include a bus station or parking for coaches, and a number of parking spots for caravans would disappear."
J Ross Developments submitted amended plans last year which included spaces for coaches and caravan parking.
'Needs tweaking'
Mr Robinson added: "A Tesco supermarket has recently been built and there were plans for four units with that. They have not been built and there is no sign of them being built.
"There are also concerns about our new one-way system (which runs through the town car park) which needs tweaking."
Mr Robinson said there was a public consultation and people said they wanted more shops in the town, but when they saw the plans for the three new shops they rejected them.
Last year, Spencer Cooper, a director of J Ross Developments, said his company's aim was to complement existing shops and restaurants and make Welshpool "the destination choice for shoppers and holidaymakers from outside the area".
Powys council confirmed the plans had been withdrawn for the shops.