Grey squirrel cull for Allt Goch woods, Llanidloes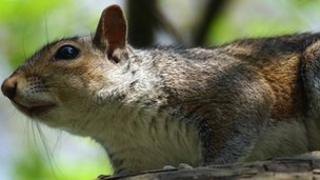 Grey squirrels in a Powys woodland are to be culled in an attempt to control rising numbers and protect young trees.
The growing population in Allt Goch woods in Llanidloes over the last two decades has been accused of damaging saplings.
The town council, which is responsible for the woods, is preparing to plant a number of new trees, but has agreed to solve its squirrel problem first.
Traps baited with poison will be placed in the woodland during the spring.
The squirrels are said to strip back the bark of young trees which can kill the plants.
Llanidloes mayor John Whittal-Williams said: "We're having a number of trees felled in the woods and as part of an agreement with, I believe, the Forestry Commission we have to try and address the problems with grey squirrels.
"If we want new trees we have to control the squirrels. We weren't left with a great deal of options."
Fellow town councillor Nick Venti, who is is overseeing the scheme, said there were too many squirrels and they were causing too much damage.
Grey squirrels were introduced into the UK by the Victorians and are blamed for the demise of red squirrels.
Grey squirrels displace reds with their more aggressive feeding habits. They also carry squirrel pox virus, which is harmless to them but lethal to reds.