Tregaron peace campaigner's anniversary marked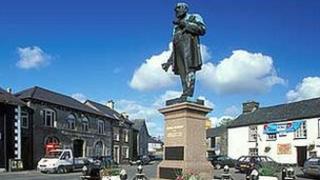 A series of events marking the 200th anniversary of the birth of a prominent peace campaigner and MP are being held in Ceredigion.
Henry Richard, born in Tregaron, was a non-conformist minister who became known as the "Apostle of Peace".
A bronze statue in memory of Richard, who was opposed to war for moral and religious reasons, stands in the town.
He was elected Merthyr's MP in 1868 and became known as "The Member for Wales" over his concern for Welsh affairs.
He was also a prominent pioneer in education, serving on several commissions and he became the first vice-president of Cardiff University College in 1883.
He is less widely known for work in opposing slavery.
Richard became known as the "Apostle of Peace" after being appointed secretary of the Peace Society in 1848, a position he held for 40 years.
The society was founded in 1816 to promote peace.
Author and journalist Gwyn Griffiths, from Pontypridd, will give a lecture about Richard's life in Tregaron on Saturday.
Events marking his birth started with an exhibition of his life at Tregaron's Oriel Rhiannon on Friday.
Meanwhile, a service will be held on Sunday near Richard's grave in Abney Park, London, which is expected to be attended by the local Labour MP, Diane Abbott.
Tuesday marks the anniversary of Richard's birth in 1812 and there will be an event in Tregaron's town square, near his statue.
The anniversary will end with an event to promote peace at the town's Y Talbot pub on 21 April.