National Library of Wales in Aberystwyth appoints a new vice president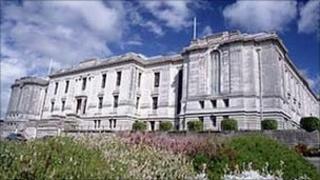 The National Library of Wales in Aberystwyth has appointed a new vice president.
Professor Aled Jones will begin his four-year appointment on 1 May and will promote the library and its work.
He is currently senior pro vice-chancellor at Aberystwyth University specialising in the history of modern Wales. He has worked at the library since 1976.
Prof Jones said it was "a pleasure, an honour and a big responsibility".
"I am aware of the importance of this institution in Welsh culture and Welsh life in general," he added.
"I look forward with the greatest enthusiasm to the work of supporting the mission of the library."
President of the library Sir Deian Hopkin said he was "delighted" at the appointment.
"He is a distinguished historian with a rich experience in university management and is deeply committed to the library," he added.
Former vice president Arwel Ellis Owen's term ended in November last year.