Ceredigion Council sorry for misleading instructions on local election papers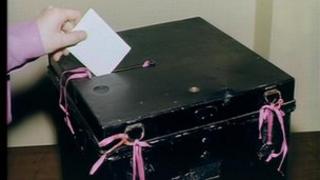 A council has apologised after it issued local election ballot papers which contained misleading instructions.
Ceredigion Council's ballot papers asked people to vote for a fixed number of candidates rather than them being able to vote for as few as they wish.
Council staff worked through the night to hand deliver corrected papers and a voting helpline was set up.
The council say their error will have no effect on the vote on 3 May.
The instructions on the ballot paper asked voters to "Vote for x candidates only" when it should have read "Vote for no more than x candidates".
Around 2,000 misleading papers were issued on the afternoon of Wednesday 18 April and after discussing the error with the electoral commission, new guidelines were issued by midday on Friday, 20 April.
The error meant all ballot papers for the community council elections across the county were affected, as were town council papers for all three wards in Cardigan and all of Aberystwyth.
Only lilac voting slips contained the error, with white postal ballot papers worded correctly.
Ceredigion council said the error was "a procedural or a production error" which will be reviewed after the election but they have asked for any voter with a query to contact them.
A spokesperson said: "The council deeply regrets any inconvenience caused by the hand delivery of the letters and the incorrect guidance.
"The council took immediate action to issue correct guidance and these letters were hand delivered to as many households as possible on Thursday and Friday in order to minimise any confusion and in some cases, possibly before they would have received their postal votes."