New library opens in Aberystwyth after £950k conversion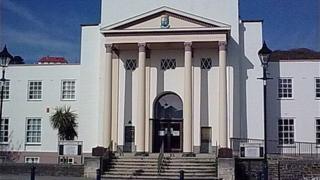 A new library has opened in Aberystwyth after a £950,000 project to convert the town hall.
The building is owned by Ceredigion council but it became redundant when the authority opened a new office in 2009.
The council said the town's old library was inadequate and it has transferred the books, other resources and staff to the new building.
It is unclear what will happen to the former library ,which opened in 1905.
Work to transform the town hall started in September 2010, and it was jointly funded by the local authority and the Welsh government.
The council has said the library will have an excellent collection of books, electronic resources, information technology, wi-fi access and learning and meeting rooms.
A pensioners' day centre is also being relocated at the new library, but there has been strong opposition to this.
Senior citizens have held vigils outside their day centre in Park Avenue in protest.