Cardiff-based Orchard to run Brecon Jazz Festival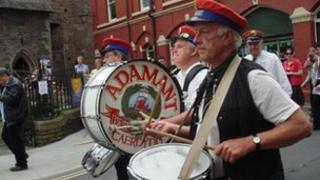 A Cardiff events and media group has been announced as the new operator of the Brecon Jazz Festival.
Orchard was chosen to run the internationally-renowned event by the Arts Council of Wales, Powys council and Brecon Beacons National Park.
The search for a new promoter started last December after the Hay Festival organisation announced that it was pulling out after two years.
Brecon Jazz had suffered a number of financial difficulties.
The arts council, Powys council and Brecon Beacons National Park led the search for a new operator.
They said there had been a rigorous search to "identify a promoter with the artistic and business credentials and the entrepreneurial flair to deliver a successful Brecon Jazz Festival".
A number of organisations were interested in running the event.
First staged in 1984, the mid-August festival has been a critical and popular success over the years, attracting leading international jazz musicians and up-and-coming artists from the UK.
The team behind the neighbouring Hay literary festival stepped in to rescue the music event after the previous promoter went bust after the 2008 festival, staging it from 2009 to 2011.
Orchard director Pablo Janczur said: "Brecon Jazz is a heritage brand with a worldwide reputation.
"We are fans as well as music promoters and event managers, and so this a real thrill to have the opportunity to be part of what we see as an exciting future for one of Wales' premier events.
"We're looking forward to sharing our ideas with the people of Brecon and the jazz world in the near future."
The festival is seen as an significant cultural event in Wales, and important to Brecon's local economy.
'Headline ambitions'
Over the years it has attracted singers and musicians such as George Melly, Humphrey Lyttleton, Courtney Pine, Allen Toussaint, Sonny Rollins, Van Morrison and Amy Winehouse.
Orchard will receive a commitment for funding this year's festival and will submit further plans for 2013 in the autumn.
David Alston, Arts Council of Wales arts director, said: "Orchard is a Wales based event company who conveyed to us both their capacity and enthusiasm to run the event.
"We were impressed by the dynamism of their ideas, their headline ambitions and their respect for Brecon Jazz's longstanding reputation."
Orchard will be hosting a launch of its plans in Brecon in the coming weeks.