Llanidloes 13th Century market saved by businesses and residents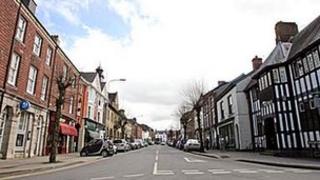 Businesses and residents have stepped in to save a street market dating back to the 13th Century after fears it would close.
Llanidloes Charter Market's future was in doubt after Powys council, which had run it for years, handed responsibility for it to the town council.
The number of stalls had dwindled from about 40 in its heyday to as few as one, but numbers have since picked up.
A committee made up of retailers and residents plans to relaunch it.
The town received its market charter in 1280, and every Saturday the market has been centred around Great Oak Street.
The town's 17th Century wooden framed market hall is still in its original position at the bottom of the street.
But the market has suffered during the past two decades.
Llanidloes Charter Market committee member Dave Cannon said: "The market was run by Powys council up until a year ago when the responsibility for it was handed over to the town council.
"The town council put an advertisement in the local newspaper asking people to tender to run the market. Three or four local retailers and residents were interested and they decided to form a group and work together."
Mr Cannon said the committee now had nine members and there were up to 40 volunteer market helpers.
"For the last 15 to 20 years there's only been a handful of stalls. There were four last Saturday and there's three this Saturday, but there have been times when there's only been one or two stalls," Mr Cannon added.
Mr Cannon said there were plans to hold a farmers' market twice a month, and one stall would be given rent-free every Saturday to a local charity.
"With the rising cost of fuel, trading and shopping in your local area should be something that will be of interest to many in the town and local area," he added.
The market will be relaunched on 16 June with an antiques fair.