Harry Tuffins: OFT inquiry into Midcounties Co-op takeover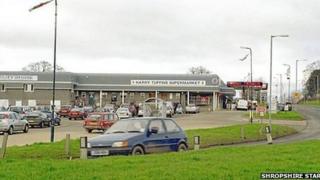 The sale of a family-owned supermarket chain to a larger rival is being investigated by the Office of Fair Trading (OFT).
Nearly 450 jobs were saved at Powys-based Harry Tuffins when its 10 stores were bought by The Midcounties Co-operative, which has over 470 branches.
The OFT said it would look at whether the deal could result in a "substantial lessening of competition" for shoppers.
The Midcounties Co-Op said the inquiry did not give it cause for concern.
The larger chain, which is based in Warwickshire and employs more than 8,500 staff, has stores in Oxfordshire, Gloucestershire, Wiltshire, Shropshire, the West Midlands and Worcestershire.
The deal to buy Tuffins' 10 stores in Powys, Flintshire, Gloucestershire and Shropshire went through on 30 April.
An OFT spokesman said: "The Office of Fair Trading has opened a merger investigation into the completed purchase of the Harry Tuffins' stores by the Midcounties Co-operative.
"The OFT's investigation will look at whether the deal could result in a substantial lessening of competition for local shoppers."
Last month, The Mid Counties Co-operative said it was keen to build on the success enjoyed by Harry Tuffins, and would be keeping the firm's trading name.
In response to the OFT investigation, a spokesman said: "We recently announced Midcounties had agreed to acquire Harry Tuffins and can confirm the business transferred on 30 April.
"Subsequently we have now entered a period of legal consultation with the OFT. This was always expected and does not give us cause for concern."
Shoppers concerned about the impact of the takeover can submit their views to the OFT's investigation team before 18 May by emailing elisa.hutchinson@oft.gsi.gov.uk