Aberystwyth running track and velodrome backed by local athletes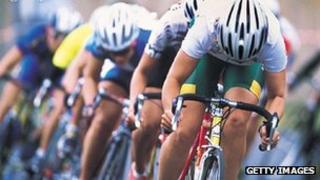 A campaign has started to build mid Wales' first all-weather running track and velodrome in Aberystwyth.
The £2m project is earmarked for school playing fields, but needs the backing of Ceredigion council, which will be expected to run it.
Local athletes and cyclists claim the support of Plaid Cymru councillors, whose party now leads the council.
The local authority said it would offer support to the project "wherever possible".
Members of Ystwyth Cycling Club, Aberystwyth University Harriers running club and Aberystwyth Athletics Club have joined forces to launch the campaign for the running track and velodrome.
Aberystwyth Athletics Club's head coach Brian Ashton said it was much needed.
"We need a legacy from the London Olympics and this project is it," said Mr Ashton, who is also a member of Ystwyth Cycling Club.
"The number of cycling club members would double if we had a velodrome. Cycling is very popular in Aberystwyth, but as we don't have any proper facilities, and have to use the roads in the area, we can't accept children as members."
Mr Ashton said the running track and velodrome would be floodlit, and was planned for playing fields at Ysgol Penweddig in the town.
He said a project feasibility study had already been carried out.
"The next stage is to get approval from the county council," added Mr Ashton.
"A motion is going to be put before the council to ratify this plan. We already have the support of Plaid Cymru and Liberal Democrat councillors. The project plans were in their local election manifestos."
Olympic gold medallist
Mr Ashton said the project would apply for lottery money, although other funding avenues, such as the Welsh government, regeneration money and private finance, would also be looked at.
A Ceredigion council spokeswoman said: "Ceredigion County Council is fully aware of the work that is being carried out by the Mid Wales Cycle and Athletics Partnership and will offer support to the project wherever possible.
"To ensure sustainability it is essential that such projects are driven forward by the clubs and their members."
Olympic gold medallist Ed Clancy was among a host of top British cyclists taking part in the Halfords Tour Series in Aberystwyth last year.
It was the first time the series has visited Wales.