Jobs under threat at Aberystwyth dairy firm Rachel's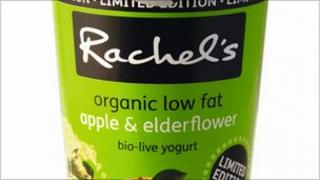 Jobs are under threat at the organic yogurt maker Rachel's in Aberystwyth.
Its owners, the French dairy giant Lactalis, said it was looking to integrate the town's factory with another part of its business.
The firm would not confirm the number of jobs at risk, but said those involved in manufacturing would not be affected.
Lactalis bought Rachel's, which employs 150 people, from US company Dean Foods in 2010.
Rachel's is one of the largest private sector employers in the town.
It was founded in the 1980s by Rachel Rowlands and her husband Gareth, a farmer, but was sold to a large manufacturer in 1999.
In a statement, Lactalis said it could not confirm the number of jobs at risk until it had gone through a consultation process, but those involved in manufacturing, which accounts for the majority of staff, would not be affected.
"Rachel's Dairy Limited (Rachel's) and Lactalis have announced a proposal to integrate the Rachel's business into the wider Lactalis Group within the UK and Ireland," the company said.
"Since Lactalis purchased Rachel's in August 2010 it has continued to operate as two separate operations. LNCD (Lactalis Nestle Chilled Dairy) is now looking to integrate the two organisations."
But Lactalis said it was committed to its Aberystwyth factory.
"These changes will strengthen and help sustain Rachel's success for the future, and secure the long term business relationships with local farmers and the area," said the firm.
"The proposal has been shared with employees, and full consultation will now take place.
Origins
"Lactalis very much regret any uncertainty this announcement may cause employees and will continue to support them throughout the consultation process."
Rachel's can trace its origins back to Brynllys Farm in the village of Borth.
Gareth and Rachel Rowlands saw their brand go from strength to strength after they started producing organic products in the 1980s.
After moving to a purpose-built factory in Aberystwyth, it was sold to Horizon in 1999 and then it was bought by Dean Foods, of Dallas, Texas.