Ardwyn School head teacher Eirios Hall gets one year teaching ban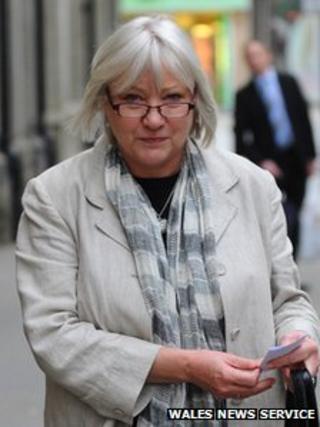 A headteacher from Powys has been banned from teaching for a year after humiliating and manhandling children.
Eirios Hall, from Welshpool, subjected nursery pupils to a reign of terror that reduced children as young as four to tears, a conduct hearing was told.
Infants would begin crying in panic when they learned Mrs Hall would be taking their class, a hearing was told.
Mrs Hall, 59, was found guilty of unacceptable professional conduct by the General Teaching Council for Wales.
The incidents took place at Ardwyn Nursery and Infant School in Welshpool.
Mrs Hall mocked, grabbed and angrily shouted at pupils in the school she ran for more than a decade, the hearing was told.
In total the panel found seven of the allegations she faced were proved outright and a further four were partly proved. She was cleared of two.
The 14th charge of unacceptable professional conduct was proved.
The allegations included grabbing one child by the back of his jumper and lifting him to his feet as he struggled to pick up a spoon he had dropped.
Berate
Mrs Hall dismissed a claim she acted in anger and insisted she was motivated by concern for the child, but was unable to convince the panel.
It also found Mrs Hall humiliated a six-year-old child at a school assembly and went on to berate him for being "immature" when he cried.
In another instance she angrily shook a child's arm when he refused to apologise for making a mess with a yoghurt during lunch.
But she was cleared of mocking a grieving child for being "too wrapped up in himself" following a family bereavement.
Claims that she violently manhandled another child were also found not to be proved.
An admission that she restrained him on a settee during a bout of uncontrolled behaviour was found to be proved but potentially justifiable in the circumstances.
The panel did note that Mrs Hall had never officially filed a report on the incident as she was supposed to have done.
The series of allegations that she faced centred on a specified period in autumn 2009.
Her unacceptable conduct became public after she was reported to the authorities by four in-school whistleblowers teaching with her.
Forced to move
Mrs Hall was suspended in 2010 pending an inquiry at the school and was dismissed from her job in the summer of 2011.
The ban she was handed came on the day of her 59th birthday at the end of the longest hearing of the General Teaching Council for Wales ever held in Wales.
After the panel's initial finding, it was told that Mrs Hall had been forced to move away from Welshpool as a result of the case.
Her lawyer, Robert Vernon, said it had left her isolated and unable to communicate with friends and former colleagues.
He added: "People speak about her in glowing terms. The loss of her job represents a huge loss to the education system."
Jacqueline Turnball, the panel chairman, announced the decision to impose a one-year ban after listing why lesser sanctions were not used.
An official reprimand and a conditional registration order, which would both have allowed Mrs Hall to continue teaching, were ruled out.
"We have considered very carefully all of the evidence and information put forward in this case," she said.
She added that the former head teacher's "testimonials and long career in education and previously unblemished educational record" were all taken into account.