Doorway flood barriers handed to 60 homes in Cardigan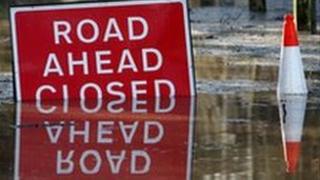 Sixty homes prone to flooding in Ceredigion have received their own flood barriers.
The Environment Agency said both the River Teifi and the sea had caused trouble for the properties in the Strand area of Cardigan.
The barriers will be placed in doorways during times of flooding. The existing defences do not protect the homes.
A small number of properties, where barriers are unsuitable, have been fitted with UPVC flood-proof doors.
Mandy Thomas from Environment Agency Wales said: "This scheme will help the people of Cardigan to protect themselves from flooding. It has also done a great deal to raise awareness of the risk of tidal flooding in the area.
"As well as delivering flood barriers to each property, we made sure that they fitted smoothly and squarely into doorways.
"We also showed people how they should be used and we are confident that they can install them when the next flood happens."
The scheme has been funded by the Welsh government.
About 42,000 homes in Wales face insurance problems when a UK government agreement ends next year, the Association of British Insurers (ABI) claimed in January.
It mapped out flood-prone areas, and the Vale of Clwyd topped the list in Wales.
The ABI warns a pact ensuring cover for high-risk homes ends in June 2013.
The Welsh government has said it is spending £100m on flood and coastal defences, and is working to ensure the insurance continued.