Wales floods: Tourism hopes remain despite damage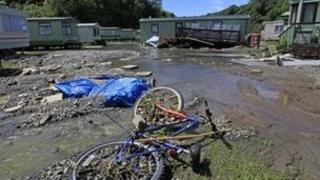 Local businesses are hoping heavy flooding in a number of holiday parks in mid Wales does not deter visitors from holidaying to the area.
Floods of up to 1.5m (5ft) hit parts of Ceredigion, Powys and Gwynedd at the weekend, inundating some villages and holiday parks.
The region is heavily dependent on tourism for income.
Visit Wales, the official tourist agency, has offered its support to members of the industry in mid Wales.
In 2011, there were 9.7m individual tourist trips to Wales, with a total spend across the country of £1.7bn.
Lynne Gardner, joint chair of Aberystwyth Chamber of Commerce, which includes businesses in the affected north Ceredigion area, believes it may be too early to assess the long-term implications for the tourist trade.
She said that to date they had not received any feedback about the tourism situation in the wake of the floods.
"I think people are still more concerned about the now, and cleaning up and trying to sort things out.
"They have obviously got bookings for the rest of the summer and I suspect their main focus is going to be getting the sites back to the way they want them so they can honour those bookings.
"There is going to be an impact unfortunately.
"I suppose there will be some people who will think, I'm not going to Wales, and I think we have got to be very clear in our message that this was a one-off.
"We want people to come to Wales.
'Completely freak weather'
"This was completely freak weather which has never been seen before and will probably never be seen again."
She added: "It's been absolutely awful for those sites affected, but there were only about four or five affected, and there are many more in the area."
Beverly Thomas, managing editor of the Cambrian News newspaper, shared Mrs Gardner's view that the floods, despite scenes of local devastation, had not had widespread impact.
"Some areas have been affected but there are other tourist areas in Ceredigion that haven't been affected at all," she told the BBC.
"There are still lots of caravan parks, lots of areas to stay, lots of hotels and lots of tourist attractions.
"There is still plenty here to bring people."
Visit Wales said it would contact businesses affected by the floods "to evaluate what help, if any, can be given to support them through this crucial summer period".