Wales floods: Some cancellations says Mid Wales Tourism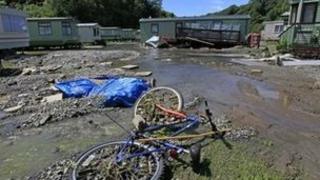 Some tourism businesses in north Ceredigion say bookings have been cancelled after the major floods.
Mid Wales Tourism (MWT), which represents 600 businesses, said the impact of the publicity had had a negative effect on the region.
But MWT, which is based in Machynlleth, Powys, has reassured visitors that mid Wales is open for business.
Companies, especially those in the tourism industry, are set to be offered government support.
Flood-hit local businesses, which include a number of holiday parks in the Aberystwyth area, had said earlier this week that they hoped the flooding did not deter people from visiting the area.
The region is heavily dependent on tourism for income, and is a popular destination for people from the nearby Midlands.
MWT chair Anne Lloyd Jones said some flood-hit businesses had now reported cancellations.
"There is a danger, if we are not careful, that all the publicity about the weekend floods will discourage tourists from coming to mid Wales, which would be very damaging to the local economy," she added.
"The vast majority of tourism businesses are operating as normal and we hope that tourists will return this weekend."
Parts of Ceredigion were flooded by 5ft (1.5m) of water with record high river levels in parts last Saturday.
A major clean-up operation continues in Aberystwyth and the nearby villages of Talybont, Dol-y-Bont and Llandre and other areas affected by the flooding.
The Met Office said more than a month's worth of rain fell in the Aberystwyth area on Friday.