MBE for Noah's Ark Appeal fundraiser Les Jones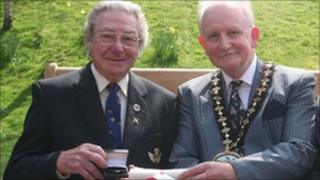 An 81-year-old retired bicycle shop owner who has raised nearly £120,000 for the Children's Hospital for Wales has been awarded an MBE.
Les Jones, from Llanidloes, Powys, has been recognised for his work with the hospital's charity, the Noah's Ark Appeal, and the community in Powys.
Meanwhile, the 92-year-old president of Aberystwyth's Royal British Legion branch, Iori Lewis, receives the British Empire Medal (BEM).
Mr Lewis said it was a great honour.
Mr Jones said he had raised £119,000 for the Noah's Ark Appeal in the past 12 years from a variety of events, including sponsored walks, music concerts, bottle stalls and raffles, and joked that it was a "full-time job".
His first donation of £2,000 came from his wife Jean's funeral in 2002.
"Jean raised money for the appeal before I even knew what it was all about. She was a former nursing sister, so realised the importance of it," Mr Jones said.
"I was inspired to carry on the fundraising for the appeal."
About receiving an MBE, he said: "I'm over the moon, not only for myself but for the people who support me. It's a great honour."
Mr Jones said his biggest one-off donation was £25,000 for a family ward, so parents could stay with their sick children.
Elsewhere, D-Day veteran Iori Lewis receives the British Empire Medal (BEM) for voluntary service to the Royal British Legion.
He has been a member for 60 years and has been branch president in Aberystwyth for 18 years.
'Pure shock'
He said his BEM was a "pure shock and unexpected".
The BEM has been reintroduced for the Queen's Diamond Jubilee, after it was last awarded in 1992.
Mr Lewis said: "I'm very honoured to receive it, but I know at least two other people in Aberystwyth who deserve it more than me."
Mr Lewis served in the 7th Armoured Division during World War II as a Desert Rat in north Africa, leaving the armed forces after seven years as a battery sergeant major.
He also served in Italy during the invasion of Salerno and at the battle of Monte Cassino. He later fought in France and Germany.
"I came back from the war unscathed, but a lot of my friends were either killed or suffered physically or mentally, so I thought the least I could do was to try and support them and the dependants of those who'd died," Mr Lewis added.
Other honours recipients include Dr Helen Margaret Herbert, from Ceredigion, who receives an MBE for services to general practice in Wales.
Margaret Munford, from Powys, also becomes an MBE for charitable services to POD in Wales and the UK, which entertains children in hospitals.
Deborah Mees Stone, a specialist osteoporosis nurse at Aberystwyth's Bronglais Hospital, is made an MBE for services to patients with the disease in Ceredigion.
Meanwhile, Michael Freeman, the former curator of Ceredigion Museum in Aberystwyth, is awarded the MBE for services to heritage in Ceredigion and to museums in Wales.