Benefit concert for Aberystwyth area flood victims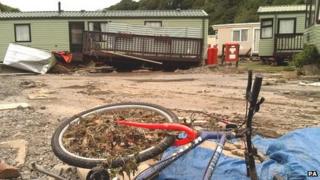 A benefit concert is being staged for the victims of widespread flooding to hit parts of mid Wales earlier this month.
About 25 acts will perform at what is being called an indoor festival at Aberystwyth University's student union.
Parts of Ceredigion were flooded by 5ft (1.5m) of water with record high river levels in parts on 9 June.
A major clean-up operation continues in affected areas including the villages of Talybont, Dol-y-Bont and Llandre.
The Met Office has confirmed that more than a month's worth of rain fell in the Aberystwyth area on 8 June.
The benefit is mainly made up of musicians but poets will also perform, and there will be various other activities including a gaming zone and tournaments, fashion show, and a silent auction.
Freelance teacher Bob Maycock was inspired to organise the event after watching the flooding disaster unfold on TV.
He said he hoped to raise thousands of pounds for the Flood Appeal Fund, which has been set up to help victims.
Mr Maycock, from Aberystwyth, said: "I was watching the pictures coming in on Twitter and the news on the BBC, and I saw how the flat parts of Aberystwyth slowly turned into a huge lake.
"The irony is that the Sunday after the floods it was a sunny day and I was talking to a friend of mine who runs a record shop. I mentioned to him that someone should organise a benefit concert, and he said: 'Yes, you should'.
"The idea came from that and here we are less than two weeks later on the verge of the benefit."
Aberystwyth Flood Relief Benefit runs from 12:00 BST on Saturday until 00:00 BST.
Meanwhile, three flood alerts in north Ceredigion, the upper Towy and upper Teifi remain in place.