Trio jailed for robbing security guard in Machynlleth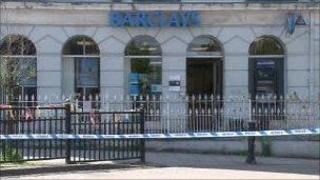 Police have welcomed the jail sentences handed to three men who robbed a security guard at a bank last year.
Mark Lawlor, 26, Micquel France, 24, and Robert Court, 23, all from the Birmingham area, admitted robbery at a Barclays branch in Machynlleth, Powys.
Lawlor and France received indeterminate sentences, while Court was jailed for seven and a half years, said Dyfed-Powys Police.
The three were jailed at Stoke Crown Court.
The trio admitted robbery at earlier hearings before being sentenced on Friday.
At Mold Crown Court on 2 July 2011, France and Lawlor admitted robbing a security guard who was carrying £13,000, while Court admitted the charge on 5 December at the same court.
Speaking after the men were sentenced at Stoke Crown Court, Det Chief Insp Shane Williams of Dyfed-Powys Police said: "This was a serious offence.
"We have had three such cases in our force area within the last 18 months, and on this occasion all the money taken was recovered.
"The sentence today should act as a clear deterrent to any persons who consider committing such offences in our area. We will dedicate the necessary resources in order to bring those responsible to justice."
On 5 December last year, Mold Crown Court heard that France was a serving prisoner on day release from Sudbury prison when the robbery took place.
He and Lawlor robbed the guard after pushing him to the floor, while Court was said to have been the getaway driver, the court was told.
France and Lawlor were arrested a short time later, and the money was recovered.