Llandovery College: New company to re-employ staff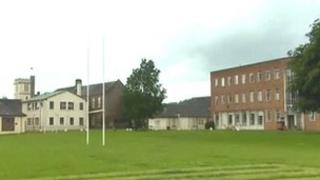 All staff at one of Wales' best known private schools, Llandovery College, have been told they will be employed by a new company formed after it ran into financial problems.
But it remains unclear if they will be paid over the summer holidays.
The Carmarthenshire college is more than £2m in debt.
A meeting has been held at which staff were told administrators and unions will devise an "action plan" to try to pay lost earnings for June and July.
College warden Guy Aisling all staff would be taken on by the new business.
"The intention is that the old company will go into administration early next week with the new company becoming operational shortly thereafter and contracts being awarded to all staff and taking them all in to the new company," he said.
"The intention is that all terms and conditions and salary levels will remain static."
Geraint Davies, policy officer for the teaching union NASUWT Cymru, told BBC Wales the meeting had been productive.
"I think what emerged from the meeting is the sincerity and the goodwill that exits now between the staff and the future employers at the college and I think that, in general, bodes well for the future," he said.
"The long term for the college I think is pretty secure and as the warden says the new company will be up and running as of next week and staff will be paid as of 1 August."
He said it was hoped an agreement can be reached with the new company to pay lost income "most members of staff".
Past pupils at the school founded in 1847 include Wales player George North and singer Rhydian Roberts.
The boarding and day school has more than 300 pupils and employs about 100 staff.
Llandovery College is both a private company and a registered charity operating under the direction of the trustees.
In the latest accounts published by the Charity Commission for the year ending August 2010 the college was running a deficit of £153,112 but had net liabilities of £2.2m.
There were 292 students who started the academic year, but he hoped for numbers to rise to 320 by September 2012.