Royal Welsh: Mum and daughter in blacksmith triumphs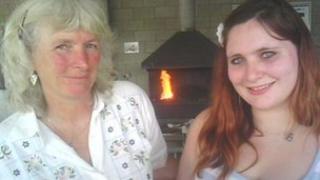 A woman has won a top award for blacksmithing at the Royal Welsh Show after being inspired to take up the hobby by her daughter.
Teacher Caroline Smith, 55, from Three Cocks, near Hay-on-Wye was declared student blacksmith of the year at the Royal Welsh Show.
She was was inspired to take up her anvil by daughter Annabel, 20, who was 2009 runner-up in the competition.
The pair are now considering building a forge in their back garden.
Annabel, who is a fencing instructor at a grammar school in Stratford-upon-Avon, first became a blacksmith at 14.
"I'd always been interested in designing things and Mum is a design technology teacher and Dad does some wood work," she said.
"I went on work experience to Bronllys forge (near Brecon) and seemed to have the knack for it."
She admitted entering into what has traditionally been a male-dominated area has been a challenge.
"I think you have to be negative about your work, but in a good way. My work has to be perfect and you have to have an eye for curves. I'm not happy if my work's not perfect," she added.
Annabel has won several awards for her blacksmithing.
Her mother said their shared hobby was therapeutic. Wielding a heavy hammer helped relieve stress, she joked.
Mrs Smith, a design technology teacher at Gwernyfed High School in south Powys, was inspired by her daughter's enthusiasm.
"I thought what she was doing was fantastic, and I wanted to do it. Annabel inspired me and encouraged me to attend night classes in Hereford," Mrs Smith said.
"She's my biggest critic and we share designs.
"I think we bore other members of our family because we'll walk past some railings, for instance, and say: 'Why did they design them like that?'"
Mrs Smith forged a music stand for the competition at this year's show.
Annabel added: "You don't need to be that strong to be a blacksmith nowadays.
"New technology and equipment such as power hammers make it easier for women to be blacksmiths."