Welsh floods: Ceredigion appeal fund tops £100,000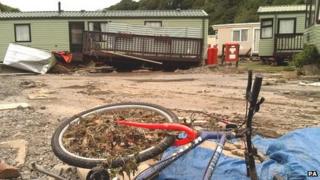 An appeal fund for victims of June's severe flooding in Ceredigion has topped £100,000, and the first cheques will be handed out next week.
The heavy rain left northern parts of the county underwater, causing damage to properties and holiday homes and affecting more than 1,000 people.
Ceredigion council's fund was founded in the wake of the floods and nearly £105,000 has been raised so far.
The council was presented with £15,000 from two organisations on Thursday.
Prince Charles and the Duchess of Cornwall met flood victims and local emergency services in Aberystwyth last month, and the prince has made a "generous" donation to the appeal.
Council leader Ellen ap Gwynn said people's generosity had been overwhelming.
"Cash and cheques ranging in amounts from £3 to £24,000 have been received by the council on behalf of the appeal fund and financial donations are still being received," she added.
"I have been working closely with the panel of advisors appointed to draw up guidelines for the distribution of funds to those in need and the panel's assistance has been invaluable.
"Council officers have been working tirelessly in the flood affected areas to ensure that all those who have suffered a loss from the flooding are identified.
"This work is ongoing and we will continue to work with individuals and communities for a long while yet."
The council said the appeal fund would remain open until the 8 June next year.
The latest donations of £10,000 from the Aberystwyth Rotary Club and £5,000 from NatWest in Aberystwyth were presented to Ms ap Gwynn on Thursday.
Government support
Earlier this week, a council report written days after June's deluge suggested that communities where homes were flooded might be asked to contribute towards flood defences.
The report went before the council's cabinet on Tuesday.
Aberystwyth and the nearby villages of Talybont, Dol-y-Bont, Capel Bangor, Llanbadarn Fawr and Llandre were among the areas affected by the heavy rain which fell between 8 and 9 June.
In the days after, some families driven from their homes by the water were warned they would have to leave for up to six months, while businesses, especially those in the tourism industry, were told they would be offered government support.