Adder bites man at Borth beach, Ceredigion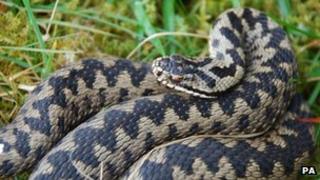 Lifeguards in Ceredigion have warned people not to touch snakes after a man was bitten by an adder at Borth beach.
The 20-year-old holidaymaker was bitten on the hand when he picked the snake up in sand dunes on Saturday.
Local RNLI lifeguards called an ambulance and assisted the man, who had a badly-swollen hand.
Senior RNLI lifeguard, Tomi Turner, said there had been several snake sightings in the area, but warned: "Leave any snakes well alone".
"Don't touch them or attempt to pick them up, just leave them be and report the sighting to the RNLI lifeguard teams," he added.
"An Adder bite, though usually not deadly, is painful and can trigger some unpleasant symptoms, as the man discovered today.
"We don't want a repeat of his misfortune, we just want to people to have a safe and fun day at the seaside."
It comes a week after a 39-year-old man was bitten while trying to pick up an adder near St Davids, Pembrokeshire.
More than one in 10 of all adder bites on mainland Britain in recent years happened in Wales, with the south west around Swansea a particular hotspot.
The National Poisons Information Service has reported that 23 people in Wales were bitten by the UK's only venomous snake between 2009-11.