Brecon Jazz Olympic event to mark end of Games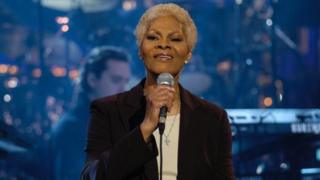 The annual Brecon Jazz Festival is teaming up with an arts event celebrating the Olympics to mark the end of the London games on Sunday.
A mass performance of saxophones will herald the end of Brecon Jazz and London 2012.
Soul singer Dionne Warwick, one of the leading names in American music since the 1960s, will launch the three-day event with a concert on Friday night.
Roy Ayers and Ginger Baker are among the weekend's other attractions.
Open invitation
The Sax Machine flashmob-style event will take place on the green of Christ College at 16:00 BST on Sunday, and entry is free.
Major artists performing at Brecon such as Soweto Kinch and YolanDa Brown will take part in the half hour set, with an invitation for anyone who plays the instrument to come along and join in.
Pablo Janczur, director of Brecon Jazz operator Orchard, said: "Jazz is all about improvisation, and we're celebrating that with a link to the Olympics which have really captured the passion of the nation.
"There will be London 2012 Festival branding in Brecon for the event, and we're hoping to create an Olympic spirit that afternoon, encouraging musicians to come down and be part of it."
The performance is part of a series of special pop-up events for the London 2012 Festival, the 12-week UK-wide arts celebration running until 9 September as part of the Cultural Olympiad.
It is bringing together leading artists from across the world with some of the best from the UK.
New promoter
Orchard, a Cardff-based events and media group, was chosen by the Arts Council of Wales to run Brecon Jazz after the Hay Festival organisation pulled out last December after running the event for three years.
Other artists taking part in Brecon Jazz this year include Roy Ayers, the pianist Huw Warren, jazz group Lighthouse and Ginger Baker's Jazz Confusion, led by the drummer best known for his role in 1960s rock bands Cream and Blind Faith.
Warwick, who is best known for songs including Walk on By, Do You Know the Way to San Jose, and Heartbreaker, will perform in Brecon's Market Hall.
She comes from a musical family which included her late cousin Whitney Houston, and her aunts Cissy and Thelma Houston.
In addition to the official festival, more than 200 smaller scale gigs will take place in pubs and clubs around the town under the banner of the Brecon Fringe.