Home Cafe's hygiene rating is corrected after error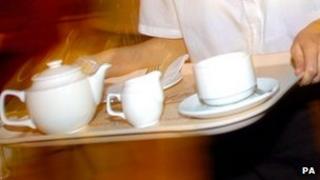 Cafes, restaurants and takeaways in mid Wales are having their hygiene ratings rechecked after a cafe in Aberystwyth was found to have the wrong score on an official website.
The "isolated error" on the Home Cafe score has now been corrected.
It is rated 4 out of 5, but was down as 2 on the Food Standards Agency website.
Ceredigion Council blamed a mistake in transferring the new rating to the website.
In all 525 food businesses in Ceredigion are listed on the Food Standards Agency website.
"The food safety team has worked hard with the Home Cafe to improve the food hygiene standards since the introduction of the Food Safety Rating System," said a spokesperson for Ceredigion council.
"As such it has been re-scored a number of times as standards have improved, and it is pleasing that the premises now has a 'good' rating of 4."
The council said it "unfortunately" appeared that the new rating was not transferred properly from the council system to the Food Standards Agency website.
"We are grateful this has now been bought to our attention, and the score has immediately been altered.
"As a precaution the scores of other premises are being checked for accuracy to avoid any other errors," the spokesperson said.