Gordon Dyche admitted reservoir crash blame, court heard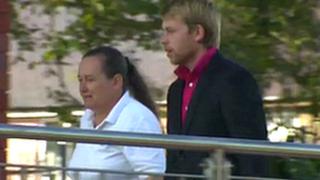 A driver said he clipped a car causing it to career into a reservoir killing four members of a family, but retracted his claim saying he was in shock at the time, a court hears.
Gordon Dyche, 24, of Powys, denies causing the deaths by dangerous driving or careless driving.
Caernarfon Crown Court heard how he was in a rush and clipped the car as he overtook it in April 2011 in Powys.
Denise Griffith, 56, lost her husband, mother and two foster sons.
Simon Mills, prosecuting, read sections of an interview Mr Dyche, of Llanbrynmair, had made to police shortly after the incident.
Mr Mills said that at the scene, Mr Dyche had told a paramedic "I shouldn't have done it. I was late for work. It's my fault."
The jury also heard that he told a police officer: "It's my fault."
Shortly after while at a police station, Mr Dyche said: "I did say that. I was very shocked, okay, and, I don't know. It's difficult."
The Peugeot 807 being driven by Mrs Griffith who was on holiday with her family at the time, was hit as she indicated to pull into a layby near Llyn Clywedog.
Mr Dyche collided with the back of Mrs Griffith's car, which rolled severeal times before plunging into the reservoir, killing her husband Emyr, 66, her mother Phyllis Hooper, 84, and foster sons Peter Briscome and Liam Govier, both 14.
Mrs Griffith had previously told the court how she managed to escape her seatbelt and swim, with the family dog, Milly, to the shore.
Mr Dyche, who regularly drove that section of the road, said he was on his way to work an afternoon shift at a garage in Llanidloes at the time.
The court heard that he in the statement, he denied he was late for work or was rushing.
He told police: "I wasn't frustrated. I was going to be on time. I don't like to be behind people who don't know the road because you end up climbing the hills in first gear."
He said that as he approached the scene of the collision he thought: "I can overtake here, it all looked fine."
Earlier the trial heard that James Denham and his brother William were passengers in a car travelling immediately behind Mrs Griffith's Peugeot.
The jury was shown a video of an interview with James Denham, who was 16 at the time.
He said: "As we were coming downhill, the car in front of us indicated right.
"Dad saw this and braked, but the car behind us went to overtake. It made contact with the car in front, which was half in the road.
"The car in front flipped twice, hit the fence and went into the lake.
"There was debris everywhere, glass, pieces of car, stuff from inside the car."
The court has previously been told that Mrs Griffith's family, from Pontypridd, had been on a day out while on holiday in Powys.
Mrs Griffith had said the family were returning home when she went to pull into a layby.
It was at that moment, she said, that she felt the car being shunted from behind.
"The next thing I knew we were going anti-clockwise," she told the court.
"I saw the rocks, and sky and rocks again, and the water just hit my face.
"I couldn't undo my seat belt at first. I sat in the seat thinking 'how long have I got to live'.
"I was taking water in, I couldn't un-do my seatbelt. I thought 'I can't just stay like this'. I just touched my seatbelt and it came undone."
Judge Niclas Parry had told her: "Everybody in this room, their thoughts are with you."
The trial continues.