Gordon Dyche: Jury out in Llyn Clywedog death crash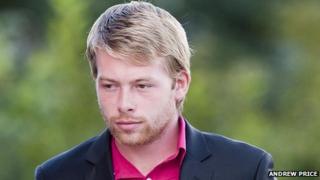 A jury has retired to consider its verdict in the trial of a man accused of causing a crash which claimed the lives of four members of a family.
Gordon Dyche, 24, from Llanbrynmair, Powys, denies the charge at Caernarfon Crown Court.
Emyr Griffiths, 66, Phyllis Hooper, 84, and Peter Briscome and Liam Govier, both 14 and who had autism, died in Llyn Clywedog near Llanidloes in 2011.
Denise Griffith and her dog Milly were the only survivors.
During the trial at Caernafon crown court, Mrs Griffith, 56, told how the family had been on holiday and returning from a day trip when the incident happened.
She went to pull into a layby near Llyn Clywedog and it was at that moment she felt her Peugeot 807 car being shunted from behind.
"The next thing I knew we were going anti-clockwise," she told the court.
"I saw the rocks, and sky and rocks again, and the water just hit my face."
Mrs Griffith managed to un-do her seatbelt and escape but she said she knew her family "had not made it".
Witnesses have told the court the defendant overtook a car, clipped it and send it careering into Llyn Clywedog near Llanidloes in Powys.
Mr Dyche has said he began to overtake a VW Passat car and a Peugeot 807 people carrier, being driven by Mrs Griffith.
But he said he saw the Peugeot 807 people carrier start to turn right across his path towards a lay-by and he struck the vehicle.
The court heard that shortly after the incident, Dyche, a married father, told a paramaedic: "I shouldn't have done it. I was late for work. It's my fault."
However, while giving evidence, Mr Dyche disputed the suggestion he had been "cutting it a bit fine" to get to work.