Good Pub Guide: Felin Fach Griffin named UK's best inn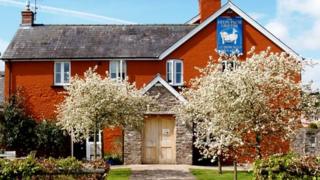 A centuries-old inn thought to have once been a staging post for drovers has been voted the best in the UK.
The Felin Fach Griffin in Powys was selected as Inn of the Year for 2013 by The Good Pub Guide.
There has been a pub on the site for hundreds of years, but the inn's exact age is not known.
Locals believe it was an important site on the ancient sheep-droving route, as well as a stop-over for stagecoaches following the historic A470 road.
Manager Julie Bell said: "There's been a pub on this spot for many hundreds of years, but no-one seems to know exactly how long.
"We're learning more and more about the building all the time, finding hidden passages and bricked-up window frames, so it's clear the building's changed a lot over the centuries.
"There are lots of people in the village who can remember the more recent history over the last 50 or so years, but going back further in time, all anyone seems to know is that this was an important spot on the sheep-droving route.
"We've also found lots of stable and coach paraphernalia, which would seem to suggest that it may also have been a stop-over for stagecoaches following the historic A470."
The Griffin's owner, Edmund Inkin, said there had been a recent revival for traditional pubs.
He added: "Unless you're in the city centres of Swansea or Cardiff, then the days of the sticky-floor boozer only serving lager and crisps are gone.
"Even in the recession people have some money to spend, they're just much more careful about how they spend it.
"In some ways the recession has even given us new opportunities, to attract in people who used to go into Cardiff for a night out, or who used to go abroad for their holidays."
A spokesman for the Good Pub Guide said its inn category focused more on accommodation, as opposed to its pub section.
The guide's website says: "Year after year we get confirmation from readers that this splendid dining pub with rooms is doing everything right, with its fine range of drinks, carefully sourced and nicely presented food and delightful accommodation."
The Bear, at nearby Crickhowell, took the runner-up spot.