Powys council to pay £25k for bringing down power lines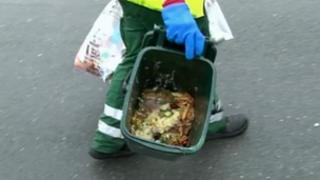 Powys council has been ordered to pay £25,000 after people "narrowly avoided electrocution" when refuse lorries brought down overhead power lines.
Two council lorries touched lines in separate incidents in Ystradgynlais in June and October 2010.
They struck low voltage lines during tipping, sending them to the ground, Brecon magistrates heard.
The Health and Safety Executive (HSE) investigated and the council admitted health and safety breaches.
The incidents occurred on 3 June and 25 October 2010, at Lluest Street and Tudor Street, Ystradgynlais.
On both occasions workers used kerb-side collection lorries that tip in order to empty material into the back.
'Tragic consequences'
The council pleaded guilty to breaching section 2 (1) and section 3 (1) of the Health and Safety Act 1974, and was fined £9,300 and ordered to pay £15,990 in costs.
The HSE said council employees, agency workers and passers-by "narrowly avoided electrocution or injury".
After the hearing, HSE inspector, Helen Jones, said: "Powys County Council failed to take all reasonably practicable measures to avoid the vehicles coming into contact with overhead lines, which could have had tragic consequences.
"Lessons should have been learned after the first incident, but they clearly weren't and it is disappointing that it took a further near-miss for appropriate action to be taken.
"Following the second incident the council stopped using the vehicles in question and introduced a different system for collecting recycled material from the kerbside."