MP complains over Aberystwyth harbour sewage spills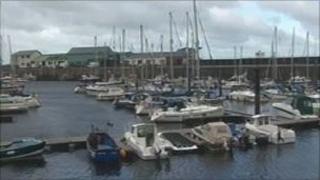 An MP has complained to a water company and Environment Agency Wales after two sewage spills into Aberystwyth harbour.
Ceredigion MP Mark Williams said the first incident happened in July following heavy rain, while the second occurred in August.
The source of the problem was Tan y Cae pumping station, which is managed by Dwr Cymru/Welsh Water.
The firm said the sewage spill in July happened after heavy and prolonged rainfall.
The incidents come after red diesel entered the harbour in September last year, which was traced to a nearby company.
Mr Williams said: "Whilst I appreciate that we experienced extreme weather conditions in the area earlier this year, the Environment Agency Wales and Dŵr Cymru must ensure that these unpleasant incidents are not a regular event.
"This affects everyone who lives around and uses the harbour, and can impact on our tourism industry.
"I hope any investigation into the cause of the spills is full and thorough, and suggests positive steps which can be taken to prevent this from happening again."
Dwr Cymru/Welsh Water said the pumping station system was designed to hold rainwater and dilute sewage in storage tanks during periods of heavy rain, so the sewer network did not fill to capacity and cause flooding to roads, homes and other properties.
"On 9 July, the storm tanks spilled settled storm water into the harbour, following heavy and prolonged rainfall," said the water company.
"On this occasion, there was a problem with the storm screen which meant not all debris was removed before the storm water was discharged, and this has now been rectified.
"On 16 August, the spill into the harbour was caused by someone dumping a fence post and wire into the sewerage network, and this possible vandalism resulted in problems."
The company said the fence post and wire found their way to the pumping station, blocking the inlet and causing the emergency discharge to operate.