Driver Danny Lewis caused death of scooter rider Joan Morris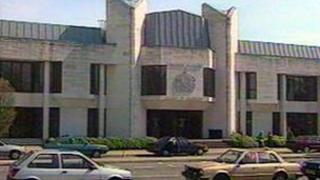 A man has been found guilty of causing the death of a woman riding a scooter by careless driving in Ceredigion.
Joan Morris, 51, from Bow Street, was hit head-on by Danny Lewis's car while he was trying to overtake a bus on the A487 Llanon to Aberystwyth road.
Lewis, 41, from Cardigan, told Swansea Crown Court that he had edged out to see if it was safe to overtake and felt "horrified" and "ashamed" to hit her.
He was cleared of dangerous driving and will be sentenced on Friday.
The court heard that the accident happened on 2 March, 2011 when Mrs Morris, a mother of two, was riding her 125cc scooter south on the A487 shortly after 08:00 GMT.
Geraint Walters, prosecuting, said as she left Llanon she would have seen the Arriva X40 Pencader to Aberystwyth bus coming towards her in front of five cars.
Overtaking
The bus had 14 CCTV cameras on board and one filmed Mrs Morris riding "perfectly correctly" on the right side of the road and towards the nearside seconds before the crash.
Lewis's car had been the second one behind the bus.
Mr Walters said Lewis, a mentor at Coleg Ceredigion, pulled out to overtake the car in front, and possibly the bus, in one move, and ran into Mrs Morris, whose body hit the windscreen of his car.
He added: "The moment he set about that overtake, given the speed of the convoy, the nature of the road, the contours, the width of the road, that was the end of it. There was nothing that could be done.
"The reality is that he crossed from the correct side of the road to a point that he completely blocked her.
'Immense loss'
"There was no escape for her. There was nothing she could have done."
Lewis told the jury he had not seen the scooter or the bus. He said the car immediately in front of him slowed down for no reason and he edged out to see if it was safe to overtake.
Asked how he felt about what had happened, he replied: "Horrified, ashamed. I would not wish it on anyone."
Judge Philip Richards said: "This is a tragic case of a loss of Mrs Morris. It was an immense loss to family and friends and I have every sympathy with them."
"There is no doubt that you carried out the manoeuvre which whilst may not directly, certainly indirectly led to the sad death of Mrs Morris."
"I am satisfied that you were edging out, rather than overtaking, and that Mrs Morris' death came about through your application of the brake which made the accident inevitable."