Andrew Edwards: Rally crash injures co-driver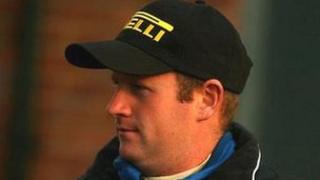 A rally co-driver has suffered head injuries after a crash in an event in north east England.
Andrew Edwards, from Cemmaes, near Machynlleth, was injured when a car slid off the road during a stage of the UTS Cheviot Keith Knox Rally on Sunday.
Edwards, 27, was transferred to hospital in Newcastle-upon-Tyne and spent two days in intensive care.
He left the unit on Tuesday and was placed on a ward. He expected to be discharged on Wednesday.
Edwards, British junior rally champion co-driver in 2010 and runner-up in the adult championship last year, also suffered a punctured lung.
He was taking part in the rally in Otterburn, Northumberland, with Richard Clews, who was driving a Subaru Impreza.
Clews said the pair were leading the event by 40 seconds at the time of the accident.
He was left battered and bruised by the crash, but said he was more worried about Edwards and went with him to hospital.
"I wish Andrew all the best," said Clews.