Aberystwyth University: Canopy protects cafe diners from debris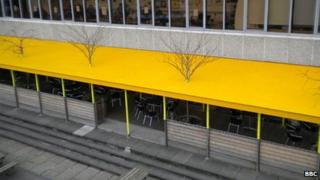 A protective canopy has been built outside a cafe at Aberystwyth University to safeguard diners after a piece of concrete fell off a wall.
The bright yellow canopy has been erected over decking outside the Piazza Cafe on the Penglais campus.
It was built a few weeks ago but its purpose has only just come to light.
A university spokesman said it was looking at re-cladding an area above the cafe and then the canopy could be removed.
'Sitting below'
He said: "The canopy has been erected as a preventative measure after a small piece of concrete became detached and fell on the western elevation of the arts centre. No one was injured.
"The university took the precaution of erecting a canopy to protect people sitting below, in the unlikely event of a recurrence.
"A survey has since been conducted by structural engineers and any loose spalling removed.
"The university is now in the process of examining the feasibility of re-cladding the building - the plan then is to remove the canopy."
An unintentional bonus, according to cafe staff, is the protection the canopy is providing diners from hungry seagulls.
In the past swooping gulls stole food from people sitting at tables outside the cafe.