Free parking in Powys for shoppers until Christmas Eve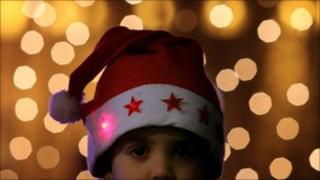 Shoppers in Powys are being given free parking in the run up to Christmas in a bid to boost trade.
The initiative will apply to all council run car parks from Saturday until Christmas Eve between 10:00 and 18:00 GMT.
Powys council said it would cost £47,000 and would be funded by authority cabinet members not taking their full allowances.
Pembrokeshire council is also offering free weekend parking up to Christmas.
Neighbouring Carmarthenshire council is to offer free parking from Boxing Day to New Year's Day, but not before Christmas.
Powys cabinet member for highways Barry Thomas said: "Businesses throughout the county are going through a very difficult time and we want to provide practical support for them and help stimulate economic activity.
"We had considered a number of options including all day free parking and free parking at weekends only, but decided the best way forward was a limited scheme which operates between 10am and 6pm every day as the best option for local businesses.
"Free parking for the whole of December was ruled out due to cost and because it would have allowed spaces intended for shoppers to be used by workers or residents and the intended benefit to shopkeepers reduced."
Mr Thomas said the council was looking to review the impact of the policy after the festive season, and might send questionnaires to local businesses to assess the success of the initiative.
The council's cabinet agreed to fund the free parking by giving up their full special responsibility allowance, said the authority.