New jobs in renovation of rundown Aberystwyth Bay Hotel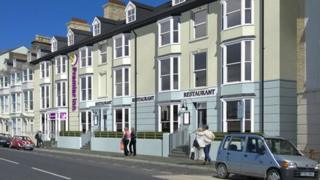 A derelict hotel on Aberystwyth seafront which has been boarded up since 2009 is to be renovated.
Developers want to build a Premier Inn on the former Bay Hotel site and new jobs are planned.
Plans for the 62-room hotel are yet to be submitted, but it is earmarked to open at the end of next year.
Work is expected to start in the middle next year on the 62-room hotel, with the opening planned for the end of 2013.
Former Bay Hotel owners Ceredigion council is selling the site to the developers for an undisclosed sum.
The local authority had leased it to brewer SA Brain and Co until 2009.
Developer Opus North, based in Yorkshire, said it would lease the revamped property to Premier Inn Hotels.
Andrew Duncan, Opus North's managing director, said: "Our acquisition of the Bay Hotel is a tremendous opportunity to regenerate this area of Aberystwyth.
"The hotel itself has fallen on hard times and had become an eyesore in an important part of the town.
Gareth Lloyd, Ceredigion council cabinet member for economic development, said: "This is an exciting opportunity to promote a more vibrant promenade and seafront.
"I'm really pleased to see the private sector demonstrating their commitment to the town by bringing forward this significant investment."
Nick Johnston, acquisition manager for Whitbread Hotels and Restaurants, which owns Premier Inn, said the development would create jobs, help attract visitors to the area, and ultimately boost the local economy.