April Jones: Charity fund for missing five-year-old raises £61,000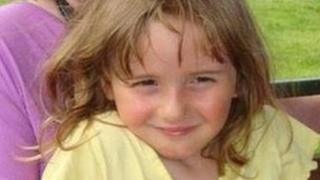 A charity fund set up after five year-old April Jones disappeared from Machynlleth in Powys has now raised £61,000.
The nine trustees to administer April's Fund, chaired by the Reverend Kathleen Rogers, have also been appointed.
April disappeared on 1 October last year while playing near her home and has never been found.
Mark Bridger, 47, from Machynlleth, is due to stand trial for her murder at Mold on 25 February.
In a court appearance earlier this month he denied three charges, including April's murder and abduction.
His barrister told the plea and management hearing that he is expected to say he was probably responsible for her death but did not murder her.
Fundraising activities for April's fund included a charity auction in Machynlleth in November which raised more than £4,000 boosted by donations of shoes from actress Catherine Zeta Jones and a diamante-studded denim jacket from singer Bonnie Tyler.
April's disappearance sparked one of the largest police searches in UK history.
Dyfed-Powys Police still have 16 teams involved in the search operation.