Welsh Food Festival: Event cancelled over Glansevern Hall sale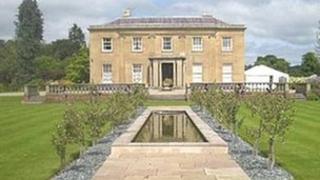 A food festival has been cancelled this year because its Grade II star-listed Georgian venue is up for sale.
For seven years the Welsh Food Festival has been staged at Glansevern Hall in Berriew, near Welshpool, Powys.
But organisers have decided to take a year off while the property, which is on the market for £3.2m, is sold.
The festival attracts about 6,000 visitors a year, and its organisers hope the event will continue under the hall's new owners in 2014.
Last year Glansevern Hall's owners Neville and Jenny Thomas announced they were selling the property and retiring.
"The festival has grown from strength to strength under the caring and watchful eyes of Neville and Jenny Thomas and we are indebted to the family for hosting this wonderful festival at their home for so many years," said Bernard Harris, Welsh Food Festival chairman.
Cooking demonstrations
"Over the years the Welsh Food Festival has flourished and developed its own unique brand which is recognised and cherished by producers and visitors alike.
"We look forward to working with everyone again and welcoming them back in 2014."
Festival organisers have written to the 115 producers who took part in last year's event explaining the situation.
TV chefs Bryn Williams and Dudley Newbury have staged cooking demonstrations at the festival in the past.