Cardigan Castle: Work starts on £11m restoration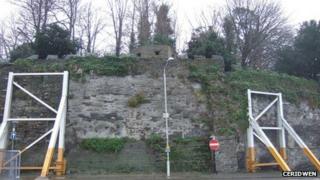 The start of £11m restoration work at 12th Century Cardigan Castle has been marked with a turf-cutting ceremony after 14 years' campaigning to save the site.
It will be developed into a centre for the community with a heritage centre and open air concert area.
The walls, buildings and gardens will also be restored, and there are plans to reopen the site in 2014.
It is believed to have been the birthplace of the eisteddfod in 1176.
Jann Tucker, who chairs the project under the Cadwgan Buildings Preservation Trust, said Friday's ceremony was a celebration of the fact that the contractor was on site.
"It's a very big project to follow and hopefully it is going to bring a lot of input into Ceredigion and north Pembrokeshire. There's going to be a big tourist attraction as well as being a heritage one."
When work on the castle is finished, it will have educational facilities, including for the Welsh language, cultural, crafts, environmental and horticulture studies.
There will also be luxury accommodation for hire, a restaurant and an eisteddfod garden.
The aim is to increase visitor numbers from 3,000 to 30,000 a year.
Prince Charles' backing
For the past 14 years the Cadwgan Building Preservation Trust has campaigned to save the site and it still needs to raise over £150,000 by the end of 2014 to ensure the project can be completed.
"The whole site is going to be redone, put back the regency gardens, the house will be redone," added the trust's chair.
"I'm so excited - I really, really am. This is something that the trust has been working for, I've been involved with it for 13 years. This is what we have all been waiting for."
The building is regarded as the first stone castle built by the Welsh princes and was the stronghold of Rhys ap Gruffydd, prince of the medieval kingdom of Deheubarth.
It is also said to have hosted what is regarded to be Wales' first eisteddfod, but for years it has stood crumbling at the riverside gateway to the town centre.
The scheme has received funding from the lottery and the European Regional Development Fund, through the Welsh government, along with other organisations.
Prince Charles gave the project his backing during a visit in 2006.