Human statue rapist: Appeal to Steven Beeks' victims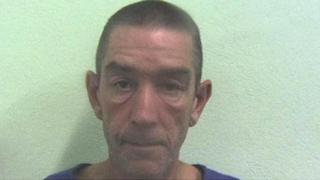 Police are appealing for possible victims of a rapist who worked as a "living statue" street entertainer to come forward.
Steven Beeks, 50, was sentenced to seven years after he was found guilty of rape and assault causing actual bodily harm at Caernarfon Crown Court.
The offences were carried out in north Powys and Shrewsbury.
Dyfed-Powys Police released Beeks' photo, saying other victims of his may yet be identified.
Det Insp Diane Davies said: "I am taking the unusual steps of releasing his image into the public domain in the belief that there may be other victims of crime that have yet to be identified by the investigation team.
"Steven Beeks was a transient individual and travelled extensively throughout the country.
"The nature of sexual abuse is such that it is rarely witnessed, it mostly happens behind closed doors and in circumstances that make it very difficult for victims to disclose their ordeal.
Det Insp Davies urged anyone with concerns about Beeks to contact local police and they would be advised on their options and available support services.
"I would like to take the opportunity to thank the people who have assisted the investigation, particularly the ladies who gave evidence at court.
"They showed immense courage and resilience, they know who they are."
The rape conviction means that Beeks must register as a sex offender and subject to monitoring for life.